A few years back I attended a show at the House of Blues in Boston, Mass. I went to see The Grouch, one of the Living Legends, perform. After his set, he chilled out in his merch booth not 5 feet from the place I had been standing. I got the opportunity to grab a selfie with him and let him know my appreciation for his works.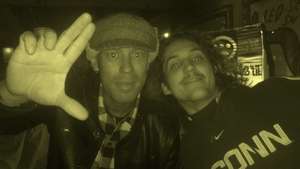 Music Video: The Grouch - "Breath"
Oh,
and Pep Love from the group Heiroglyphics was there.
Great show.
Come back to the east coast, Grouch!